Already in the 1970s, a few other lamas besides Dandaron also began to teach people who came from the western part of Russia. These included Lama Buda and Lama Zhimba Zhamso Tsybenov (1904-1995) in the Aginsky Buryat National District but outside of Aginsky Datsan, as well as several lamas at Ivolginsky Datsan near Ulan Ude. These included Hambo Lama Zhimba Zhamtso Erdyneev (1907-1990), Hambo Lama Munko Tsybikov (Munko Lama) (1908-1992), Lama Darma Dode Zhalsaraev and a few others. 
Vello Väärtnõu
One non-ethnic Buddhist who studied at Ivolginsky Datsan (1978 -1986) was the Estonian Vello Väärtnõu (1951-  ). Väärtnõu had always been a nonconformist. At the age of 16, he became interested in Buddhism and set out on foot to India. He was arrested at the USSR border, however, and was sentenced to three years imprisonment in a gulag camp in the Komi Republic.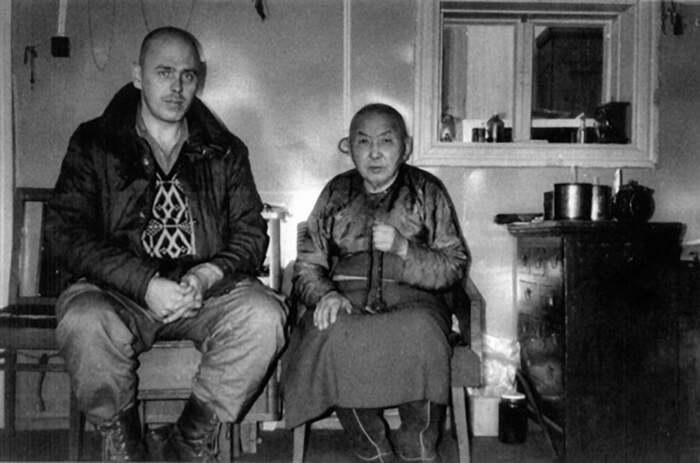 Vello Väärtnõu with the Deputy Hambo Lama Zhimba Zhamtso Erdineev (1983).
In 1982, Väärtnõu founded the Estonian Buddhist Brotherhood (Taola) in Tallinn. The members of his group often visited Ivolginsky Datsan, learned Tibetan and Mongolian, translated texts, and painted traditional thangkas. Between 1982 and 1985, they had built four stupas illegally in Estonia, probably the first stupas built in Europe outside of those built in Kalmykia before the Soviet period. The only pre-Soviet Kalmyk stupa (Kalmyk: suburgan) still standing at that time, though partially destroyed, was the suburgan of Baaza Bakshi, built in 1903 in Oran Buluk.
The first three Estonian stupas.
In 1988, Väärtnõu created the program for the first opposition party in the Soviet Union, the Estonian National Independence Party, for which he was deported. After spending five years in India, China and other countries, he settled in Sweden. In 2006, Väärtnõu moved back to independent Estonia where he continued his Buddhist activities with the renamed organization, Estonian Nyingma and his work on his large internet project, "The Chinese Buddhist Encyclopedia." Soon, however, he moved to Australia and, in 2020, returned back to Sweden. 
Buddhist Organizations in Ukraine at the End of the 1980s
At least two organizations appeared at the end of 1980s in Ukraine. The first was founded in 1988 by one of the earliest foreign Buddhist teachers who came to the USSR, the Japanese monk Junsei Terasawa (1950-). Soon, his students appeared also in Russia. Terasawa has been a strong advocate of the peace movement and has organized peace marches in various parts of the world. A few of Terasawa's disciples are still in Ukraine.
The second organization in Ukraine was founded by Oleg Mujchil, who also bore the Buddhist name Dorje Zhambo. Mujchil received this name, as he recounted, in Buryatia from a certain unnamed Tibetan teacher.
Dorje Zhambo (on the right)
Dorje Zhambo registered the Spiritual Board of Buddhists of Ukraine in 1991, which he headed, and then in 1993, built a Buddhist monastery near Donetsk, though without any monks. He taught his students a form of martial arts that he falsely claimed was Tibetan.
Dorje Zhambo's Buddhist activities ended badly. In 2014, he started fighting with the troops that supported the pro-Russian separatists in Donbass, and a few years later he was killed by the Ukrainian special services, who for some reason wanted to arrest him. Dorje Zhambo did not surrender during the storming of the house in Kiev where he was staying and even shot two officers during the siege.
In the last years of the Soviet Union, small informal Buddhist groups existed in Moscow and Leningrad. They did not organize themselves formally, however, until the late 1980s out of fear of the KGB. There were solitary Dharma practitioners in some other cities as well.